My name is Julia Selivanova and I am a portrait photographer specialised in newborn and pregnancy portraits. I became a photographer after 20 years of a successful international career in law and energy policy, in 3 different countries.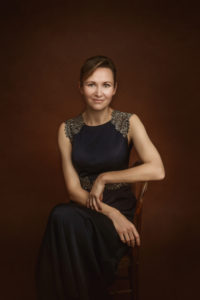 However, with arrival of my own first child I wanted to capture quality newborn photos as well as baby images of all of her important milestones. I went to a professional photographer 5 times between my pregnancy and my daughter's first birthday! At the same time, I was pursuing photography as a hobby. I printed my photos and looked through those memories very often. I found it fascinating that we can freeze those precious moments and go back to them and smile and live those happy moments again looking at our photographs.
Then, during my second pregnancy, I had to stay on a strict bedrest for almost 5 months while not knowing if the baby would make it or not. In order to give me strength to continue with the difficult pregnancy bedrest, I used most of that time to study newborn photography and newborn posing safety. I wanted to welcome my precious baby into the world healthy and I dreamed of photographing her myself. This period of uncertainty also allowed me to revaluate my priorities in life, and think what made me most happy. And that was… babies and photography! When my daughter was finally born, I photographed her almost every day for the first year. She was my first newborn model and she posed quite well!
I opened Si Belle Photo Studio soon after J I simply could not imagine going back to my former career. Photography became my PASSION. It fills me with so much happiness to capture for my clients these special memories in their life and I hope my images of pregnancy and newborn babies show all my love that I pour into their creation.
Photography is now my full time professional activity  and I love creating beautiful timeless portraits of people and especially the most perfect human beings – newborns! My style is described often as classical and timeless. I prefer using only hanmd-made accessories, natural textures and materials of the highest quality that I source worldwide. I love using a soft color palette to compliment your baby and make the little one the center of the photo (although my studio has every color of accessories you can imagine. My clients often tell me their photographs resemble them paintings. This is a big compliment and encouragement for me. I retouch meticulously every single photo and spend quite some time on each of them, ensuring however the most natural effect possible.
I am constantly improving my photographic skills and work non-stop on my creative projects to offer my clients even more beautiful portraiture of the highest international standard. My work has been rewarded throughout 2019 and 2020 by 38 international awards and medals in such prestigious photography competitions as The Portrait Masters in the USA and the RISE Awards in Australia.
I hope to meet you very soon and create some beautiful images for you and your family to last a lifetime!
With love, Julia